The Line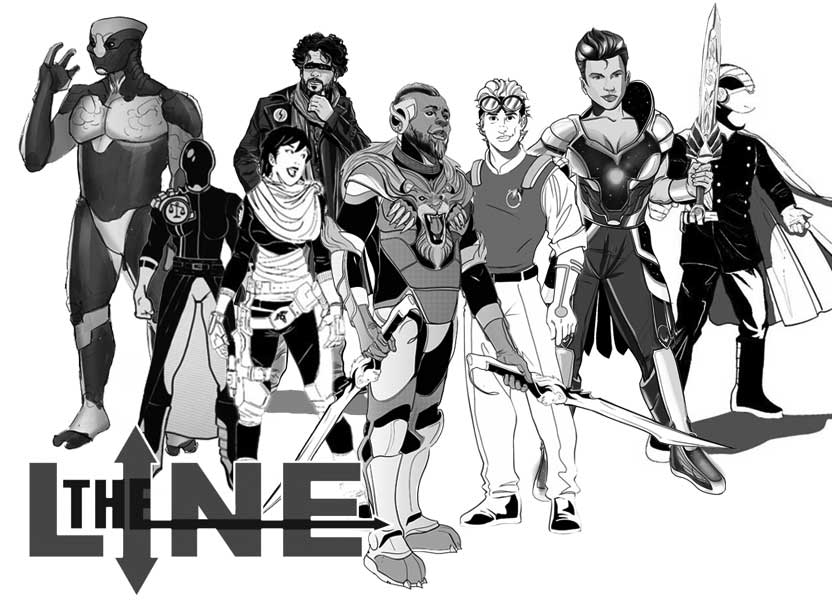 "... hero? Are you on the Line?"
TAG LINE:
Holding the line between tragedy and tomorrow!
WHAT THE STORY IS ABOUT:
The balance between protecting the world and maintaining one's sanity is a line walked every day by a goddess, a billionaire, a king, a fanboy, a space prosecutor, an alien detective, and a walking back-up plan striving to find her way.
WHAT THE STORY IS REALLY ABOUT:
This title hits many notes to form an entertaining chord of sequential art -- character study, mystery and super powered smackdown, featuring a female protagonist of color and a team of unique heroes that aren't just analogues of what's already on the stands. A fertile playground for spectacular stories.
CONCLUSION:
Ready to entertain the traditional superhero fan with large scale melee combat and the more discriminating modern reader with well developed characters, thought provoking storylines and real creative diversity, this is the total package as a foundation for a world of entertainment.
Do you want more?!??
Where can you find The Line?
FALSE FLAG
Paramilitary adventure set in the world of the Line, when a nefarious terrorist organization battles an elite counterterrorist force, who really wins ... and who really loses?
Find more about False Flag