Ricanstruction: Reminiscing and Rebuilding Puerto Rico
Hannibal was invited to donate a story to this benefit anthology for Puerto Rico and jumped at the chance to work with characters from DC Comics, as well as writing a little for the Puero Rican heroine La Borinquena. Who else got invited to the party? Here's just some of the names involved ...
Rosario Dawson
Ruben Blades
Denys Cowan
Reginald Hudlin
Yannick Paquette
Gail Simone
Esmeralda Santiago
Greg Pak
Tony Daniel
Ken Lashley
Bill Sienkiewicz
Gabby Rivera
Jorge Jimenez
Mike Allred
Sonia Manzano
Will Rosado
Chris Sotomayor
Javier Munoz

... and many more in a big project featured in the New York Times.
Here's an exclusive sneak peek at the story Hannibal wrote with visuals from Ed Jimenez, Edgar Delgado and Taylor Esposito.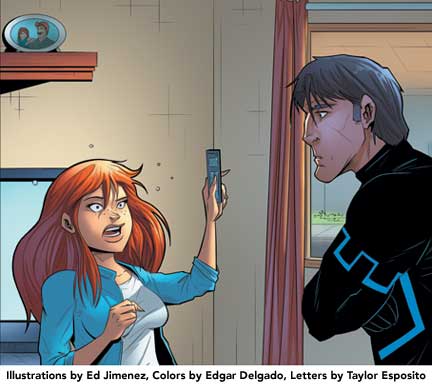 Description from the publisher:
Ricanstruction: Reminiscing & Rebuilding Puerto Rico is an anthology featuring contributions from writers and artists from the comic book industry like Gail Simone, Greg Pak, Reginald Hudlin, Denys Cowan, Tony Daniel, Ken Lashley, Bill Sienkiewicz, Yanick Paquette, Gabby Rivera, Will Rosado, Jorge Jimenez, Mike Allred, Chris Sotomayor, to Puerto Rican and Latinx celebrities like Rosario Dawson, Rubén Blades, Javier Muñoz, Sonia Manzano and over 100 more. Produced and also featuring stories written by Edgardo Miranda-Rodriguez, this anthology teams up his original character La Borinqueña with some of the most iconic comic book heroes of all time from DC: Wonder Woman, Batman, Superman, Aquaman, The Flash and many others. Original stories also take us to the past to explore the beautiful history of Puerto Rico as well as tales that envision a stronger and rebuilt island. 100% of the proceeds from this anthology will go to the continued work to help over 3 million Americans living in Puerto Rico, providing solar-powered lamps, food, clothing and so much more. These short stories remind us all that the true power of being a hero is inside each of us. When we come together as a united people, we will never be defeated! ¡El pueblo unido jamas sera vencido!
Available at comics retailers and on Amazon.com May 2018