About: Awards: Graphic Novel Diversity Award
The Virginia Library Association (VLA) chose Watson and Holmes Volume 2 from New Paradigm Studios as the winner of the Graphic Novel Diversity Award Winner for 2016 in the category of literature for adults.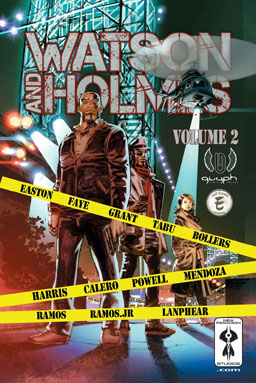 "Watson and Holmes, Volume 2 is a great twist on a British classic that features a reimagining of beloved, iconic characters. With great black role models this series is relevant with the emergence of more black heroes and grittier storytelling, as seen in Netflix's Luke Cage. These complex characters solve crimes with diverse elements, including sex slavery, suicide, transgender sex workers and more. The artwork is expressive and provides its readers with a distinct cast of characters."
Our own Hannibal Tabu wrote the chapter "A Soldier's Story" alongside 2 Guns creator Steven Grant with artwork by Dennis Calero.
Source: The Virginia Library Association