| operative network | professional site: 411 - design - store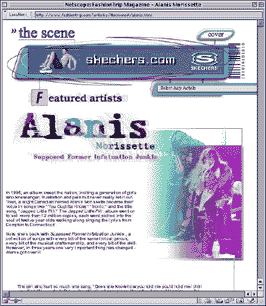 DATES:
October 1998-January 1999
SPECIFICS:
Features writing and editing, graphic design and image editing, HTML design.
OVERVIEW:
I was brought in on a contractor basis through T-Square, Etc. to be the assistant editor for the web magazine component of a product called Fashion Trip, a CD-ROM software title aimed at young girls aged 11-18. The web magazine could be accessed by the public at large and accessed via the specific interface of the CD-ROM browser.
I relied heavily on my experience as Managing Editor at Rap Pages to develop content for a young demographic, and a 35% increase in traffic was reported. I wrote a series of reviews and features for the site, designed the pages and created the graphics for them. I made numerous suggestions, including a set of columns aimed at creating a more concrete voice for the site, many of which were carried out after I left. I was able to publish three editions of an advice column, which likewise showed a great deal of success, trafficwise. I also assisted the marketing department in the design and implementation of cobranded mini-sites (most notably a Skechers promotional subsite).
Personality differences began to cause friction between myself and the magazine's lead editor, and she ultimately asked me to leave, making one of the very few times I actually was "fired" from a job for a reason that had to do with me. The site and the product have since been discontinued, as the parent company ModaCAD changed its name to StyleClick.com and was sold.