| operative network | professional site: 411 - design - store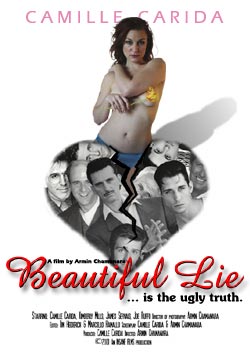 DATES:
May 2001
SPECIFICS:
HTML design and production, image editing.
OVERVIEW:
I stumbled on to Lucine Entertainment and Vahe Mansourian through a job posting board, and agreed to do this freelance project for him, a movie poster for an independant film called Beautiful Lie. This was supposed to be a precursor to more work, but the film's title turned out to be strangely prophetic.
Mr. Mansourian gave me all the photos and a vague idea of what he wanted -- broken heart, girl above it. I took it from there, creating the image you see, which he seemed pretty happy with. There was some discrepancy -- it may have been money, it's a little hard to remember, and my note-keeping wasn't the best back then -- but I ended up very angry with him. I never saw the film or the poster, and forgot about it until I came across the files, deep in my archives. I still think it's a nice design, and I do like doing posters and signage, but I really have to stop dealing with clients directly if I can avoid it.