| operative network | professional site: 411 - design - store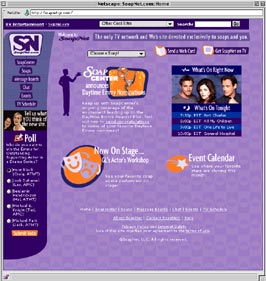 DATES:
November 2000-April 2001
OVERVIEW:
Disney Channel operates a number of other cable channels, including SoapNet, a channel that relied heavily on the parent company's acquisition of ABC, rebroadcasting ABC Daytime soaps at night (for people who missed them or what have you). When I started as a site producer in November, they'd been trying to get their redesign online for close to a year, with no avail. Their documentation was a gargantuan Word document, the staff working on the project was scattered from Burbank to San Francisco to Florida to Seattle.
The first thing I did was set up a system of internal communication via a web directory and message board accessible to all parties, from senior management to production artists. Second, I collected complete contact information on everyone (just finding people was a challenge) and compiled a master contact list, which I posted to the web. Third, I got a laundry list of everything that needed to be done -- the project was, at best 40% complete -- and confirmed with each member of the team how long their contribuition would take. Finally, I added a month to what everyone told me, and set a launch date for the redesign, laying out the schedule in plain text and posting it for all to see.
Over the course of the next few months I managed the process, nudging vendors and co-workers when their deadlines were approaching, as well as adding tweaks such as clearer signage and utility navigation above the fold in an effort to improve the user experience and push the priority goals of the organization. In January, I was told to include integration of the newly-purchased GoPublish content management system in the redesign. I was able to take on much of the training of staffers who would use it, relying on my experience with CMS at a prior company, only adding a week to the overall schedule. The redesign launched in the third week of March 2001, as promised, a little more than three months after my arrival.
During that time, I also assisted the marketing department in their goals of penetrating more local cable markets by setting up specialized, cable-system-specific web pages with content relevant to the sales pitches. I repurposed graphics from creative services for web usage in a promotional contest tied into the Daytime Emmy Awards and generally served as a liason with on-air programming, marketing and technology.
In April 2001, two weeks after I received a public thank you from the senior vice president of the business unit, CEO Michael Eisner sent out a directive that the company had to cut 6,000 employees worldwide. I was number eight, and my boss was number 10.
SPECIFICS:
Project management, graphics creation and editing, user experience and interface design, HTML design and editing, administrating a staff in multiple cities and locations, multiple levels of reporting for executive review.