| operative network | personal site: creative - relativity
we remember
hall of honors
So many of our finest have passed on that it became clear that there needed to be a space to honor them and their lives. The Operative Network is happy to present that here.
For the uninformed, the phrase "anedge hirak" translates to "homage to thee" in the language of the Kemites/ancient Egyptians. It is used to give honor to the spirits of those who passed and lived in service to the people.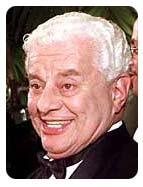 TITO PUENTE -- From the Associated Press, 6/1/00:

"NEW YORK -- Bandleader and percussionist Tito Puente, who rode to fame on the heels of the 1950s mambo craze and for the next five decades helped define Latin jazz, died today. He was 77.

Puente, who was recently treated for a heart problem, died at NYU Medical Center in New York, said his agent, Eddie Rodriguez. Puente recorded more than 100 albums in his more than 60 years in the business. He won his fifth Grammy in February for best traditional tropical Latin performance for "Mambo Birdland" and has been nominated for the award 10 times.

Puente brought the timbales, a pair of single-headed drums mounted on stands and played with sticks, from behind the band to the front of the bandstand and played standing up."

He was also the fly homie who would freak an appearance on the Simpsons in a minute. He will be missed.

Anedge hirak Tito Puente
YUSEF AFLOAT -- Member of the Nonce, an LA based group, found on the side of the 110 freeway in LA. Little is known about his death, but he was a young Black man who obviously died alone and unprotected, and for that we feel sorrow.

Anedge hirak 'sef
DJ ROB-ONE -- The underground evangelist born Robert Cory lost a two year battle against cancer on March 16, 2000. A member of CBS (Cali Bomb Squad), he's been in the trenches for years -- be it at EMI, doing the "Fly ID Show" on KCUN Radio.

Fighting cancer was a massive drain on the resources of his family, and a benefit show was held March 23rd, 2000 at the Polo Lounge in Alhambra, featuring Dilated Peoples, Bahamadia, Visonaries, AWOL, Shape Shifters, Circus, DJ Rhettmatic, Oscar the Grouch, and more. The outpouring of regret at the passin of this man has been large, and LA lost another one of its greats.

Anedge hirak Rob-One
FIFTH STREET DICK -- Born Robert Fulton, the Vietnam veteran, former homless man, and alcohol addiction activist, he opened up his Leimert Park coffeehouse (given the nickname he carried during his homeless days in Downtown Los Angeles.) the day the LA Uprisings began. This simple coffeehouse, along with performance venue The World Stage, provided the base for the renaissance of Leimert Park Village as a central point in Black Los Angeles. Bourgeouise buppies and weed-scented hip hop heads could congregate in a peaceful environment, listening to the sounds of jazz and sipping non-alcoholic beverages. Upstairs, musicians laid down licks to educate the young to the be-bop ways of the past as well as provide the classics for elders who'd appreciate it. Nowhere else in town could people of color go and just exist in peace and enjoyment. Not to mention the avid social scene that developed around there -- many late night conversations led to breakfast, trust us.

Richard himself was a jovial, fun guy, who was always willing to let a brother slide if he was a bit short on the cover this week. He was widely loved by the community and had virtually no enemies (save that scurvy bastich Mark Ridley-Thomas, putting parking meters all over the damned place). His passing leaves a big hole in the wisdom of elders, as he was one of the few who was always willing to talk to and be cool with young people, and offer them wisdom if they wanted it. He died after a long battle with throat cancer in early March, 2000.

Anedge hirak Fifth Street Dick.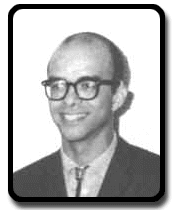 JACK "THE RAPPER" GIBSON -- One of the pioneers of Black radio, Jack Gibson has been in the game since before it had a board. His "Jack The Rapper" conferences became the template for the How Can I Be Down?s and the Rap Sheets and all the other conferences that came afterwards.

To quote Davey D, "Everyone who was anyone went to Jack The Rapper during the early 90s. It was a welcome change and more inclusive scene in terms of embracing Hip Hop as compared to other music conventions at that time. What he was best known for was his pioneering efforts in bringing together folks within Black music. He founded an organization for Black Radio DJs called NARA [National Association of Radio Announcers]. He also put out the first Black music trade magazine called 'Jack the Rapper's Mello Yello.' He put together his first music convention in 1977."

Founder of Soul Magazine Regina Nickerson Jones said, "He was a legend. He was funny, serious, well informed, caring, and just generally a wonderful man. He was always pushing someone else up the ladder. I've been on panels with him, attended his conventions, talked as friends, and just basically cared about Jack. We'd lost track of one another over the past years but I always knew that I could just pick up the phone and he'd be there for me. That's a comfortable way to feel about anyone in or out of the business of music."

He died January 30, 2000 of lung cancer at the age of 79 in Las Vegas.

Anedge hirak Jack The Rapper.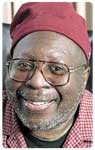 CURTIS MAYFIELD -- One of very few names that can be honestly considered a musical institution in a world of fly-by-night musical nothings.

When other musicians shied away from social consciousness, Curtis Mayfield strode proudly into the fray, speaking the truth and telling it like it is. When paralyzed by a falling lighting fixture while preparing for a Brooklyn performance in 1990, he kept making music, despite only being able to play guitar and sing when laid flat on his back.

"People Get Ready." "Superfly." "Freddy's Dead." "New World Order." "If There's A Hell Below." So many classic songs, both as a solo artist and the brains behind the Impressions. Although he had continued to be active and creative after his accident, he had been in pain for a long time before he finally succumbed.

He died December 26, 1999 in Roswell, GA at the age of 57.

Anedge hirak Curtis Mayfield.
BIG PUNISHER -- Born Christopher Rios, the man called Big Pun went on to become the first Latin rapper to sell a million albums with his debut album Capital Punishment. He became well known for his rapid-fire lyrical delivery in a number of high profile guest appearances with other grooving young artists, including with the Beatnuts, Fat Joe, Jennifer Lopez and his crew the Terror Squad.

His health had been in poor health for about a year before he passed away. He had swelled up to 450 lbs and been forced to miss concert dates as a result. The cause of death has been determined to be cardiovascular, which is widely considered to be because of the weight factor.

He died at age 28 on February 7, 2000.

Anedge hirak Big Punisher.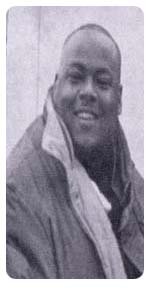 BIGGA B -- Bill Operin aka Bigga B worked for Loud Records as a promotions and A&R man. He also teamed up with co-worker Orlando to run Los Angeles' longest running underground hip hop concert series, Unity. Bigga was passionate about urban music and young people of color, and went wherever the music took him.

He was always interested in hearing what anybody had to say unless they were trying to slide into a show. He was a very serious man, but one who valued a good time and brought a lot to hip hop -- he sponsored shows with Common, the Beatnuts, Organized Konfusion, Heltah Skeltah, Visionaries, Xzibit, Sadat X, OC, the entire Wu Tang Clan (for instance, performed at S.I.R. Theatre for $10, and Method Man stagedived into the hard wood floor in a display too funny to forget or recount), and countless others when no one else would. Before the Hard Knock tour, he packed concert halls with hundreds of hungry hip hop heads all over Southern California for (at most) $15 each.

Music took him to Arizona, working with Priority Records artist Bad Azz, when he was stricken with a heart attack. It should be mentioned that Bigga was (as his name implied) a large human being. Chances are that played a part in his untimely demise.

Bigga B died at age 34 on May 2, 1999.

Anedge hirak Bigga B.