| operative network | writing archive: columns - reviews - interviews - features
features archive: the film Biker Boyz
Rough Riders Only?
Why White Critics Are Missing The Point of Biker Boyz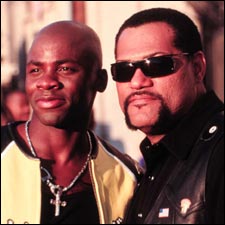 Well-known Chicago Sun-Times critics Richard Roeper and Roger Ebert gave the new movie by husband-and-wife team Reggie and Gina Prince-Blythewood "two thumbs down," with Ebert going as far as calling the film "gentler and tamer than the ads might suggest." C.W. Nevius of the San Francisco Chronicle refers to the film as "the flat and the tedious," comparing it unfavorably to the street racing Vin Diesel action flick The Fast and the Furious. In the majority of the negative press about Biker Boyz, people expect it to be rougher, meaner, nastier, grittier, more profane, more extreme.
These people clearly do not understand motorcycle clubs.
Ebert alludes to this in his review, where he notes that many of the members "are men in their 40s, and the (unexplored) subtext is that these are successful men who enjoy the excitement of street racing. Not much mention is made of jobs, but you can't buy and maintain these machines without a good one." His cohort Richard Roeper insisted on characterizing them as neuterized gangs, walking in and expecting Hell's Angels.
While there certainly are and have been motorcycle gangs rife with criminal activity and the level of threat Roeper seems to have wanted (and truthfully, that world is alluded to when Derek Luke's character is almost killed by a Harley-riding horde of rowdier bikers), that's not the focus here. When the movie reveals Orlando Jones' character, a trash talking herald and hypeman called "Soul Train," is an attorney, no one at the capacity opening night screening at Magic Theatres blinked an eye. Why?
Some people have uncles in these clubs, fathers, cousins. Doctors. Janitors. Normal people of every possible stripe enjoy the motorcycle club lifestyle -- speed and high performance machinery. Motorcycle clubs are, far and wide, civic minded: the film shows a charity bike wash, as numerous local clubs will sponsor scholarships and other community activities.
Look away from the appalling lack of research these critics did, pass over their firmly rooted preconceptions of motorcycles = malcontents (one look at Boarhog.com, whose message boards lauded the safety training Biker Boyz cast members undertook in preparation for the film as of presstime, is a clearer view of what these groups are about). Let's look, instead, to the flawed film criticism that they applied based on these preconceptions. If someone is prejudiced and shuts up, it's really just their problem. If someone is prejudiced and it affects their job, especially when their job can affect the livelihoods of others ... well, now that's a problem of a different stripe.
Nevius' review, for example, missed a crucial fact from the film: the King of Cali "crown," passed on by means of a helmet chronicling the wins of each sovereign. Laurence Fishburne's helmet had a number of studs on it -- each one represented a race he'd won as "King of Cali," an affectation for the state's pre-eminent racer. Viewers at Magic Theatres, again, had no problem grasping this fact. A seasoned film reviewer, however, ignores this central point to the film's denouement, and uses it as a way to denigrate the film.
Ebert, in turn, criticizes the film for not talking about the day jobs of the members of these clubs, criticizes the movie's language as "polite," criticizes the insults bandied about, and considered the father-son mechanics of the film "sidebars to the main story."
Now, let's look at it from the other side: you're a filmmaker, you have a large and fascinating cast (Djimon Hounsou, Larenz Tate, Vanessa Bell Calloway, Terrence Howard, Salli Richardson, Kadeem Hardison, Lisa Bonet, Kid Rock, Derek Luke), and limited screen time. Wouldn't an almost-Shakespearean generational power struggle between brash newcomers and fading traditionalists be more interesting than a documentary of what they do during the day, waiting for the night and their true passions to erupt? Add to the mix the well-known ability of Black people to trash talk (local poet Peter J. Harris, only in his forties, has literally brought younger competitors to tears over bidwhist, so one can imagine how bad a veteran motorcycle racer would be), and why would you need extensive cursing and the "n-word" (which the filmmakers explicitly avoided) to get your point across?
The race scenes -- certainly not as powerful as the speeder chase from Episode II, but not the theatrics of Cannonball Run either -- are another point of contention for many reviewers, wondering why so few people are at finish lines. Again, these are clearly not people who have done any research -- there's no one allowed at the finish line of drag races, which this kind of racing clearly resembles (they even use a drag strip at one point of the film) because fast moving pieces of metal have a tendency to fly into the air and smash down on whatever is around. Again, a cursory web search on racing safety would turn up this kind of data.
That's not to say Biker Boyz is an unflawed work of genius. There are two serious flaws, both involving Derek Luke's character, which almost none of the mass media reviews touched on. Tina, played quite visually by Meagan Good, has an interesting and sassy character in the first third of the film, but virtually disappears as she becomes Luke's girlfriend and the film progresses. This is a problem, as she may not be able to hold the screen like Bonet or Calloway (yet) but still has enough visual presence to dominate the aforementioned advertising, and people like to see what they're gonna get. Secondly, Luke's character founds an organization that starts with two guys, passable bikers in their own right, and ends up as a head of a 40-strong club that's dominant on the "scene." There is a lot of characterization that is glazed over in him, as he's still in his teens as he leads this rebellion of younger riders, and that kind of power that fast can have some fascinating effects on a person.
Still, the father-son troika between Luke, Fishburne and LaSalle (whose appearance in Fishburne's dream was poignant, down to the grin he aimed at the camera) is a riveting character study that goes unappreciated by the mainstream press. The reluctance of Calloway's character to remain a part of a world she clearly came from and still enjoys is also very well done. The almost Kurosawa-esque "showdown" scene, the trappings of the old west after the Fresno conference is booted from the race track ... all fine moments of filmmaking.
Is it so much to ask a critic to do his job and pay attention to what he's watching?