| operative network | writing archive: columns - reviews - interviews - features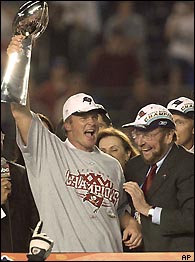 It's a day unlike any other -- a special time of year recognized by heads of state and dockworkers alike, a day when telemarketers hang up their phones and quiet streets suddenly erupt with cheers and hollering at seemingly random intervals. It's a time when shopping malls and grocery stores are filled with runaway wives, one twenty-four hour period when an entire nation turns its eyes towards one city. This year that one city, that recipient of this bounty of tourism and intensity is none other than San Diego: of course this spectacle could be none other than Super Bowl XXXVII.

Championships for other major professional sports can create excitement: Chicago practically invented the modern form of post-championship rioting, and 2002 saw fervor in Anaheim and San Francisco over the all-California World Series. Still, what other sporting event puts it all on the line like this? There's no "well, we're down a game, but we'll make some adjustments" in this clash of titans. Do or die, weeks of preparation and preamble, practice and pondering comes down to one glorious Sunday in January and the thundering of cleats across lines of scrimmage.

This onslaught of humanity will not be a surprise to the denizens of San Diego, used to annual invasions by costumed collectors and the rambunctious musical melee of Street Scene at Gaslamp. Like any smart city, San Diego is ready: every single seat at the Q has been sold, creating a healthy if illegal trade in scalpers, who of course inspire and fill coffers for our boys in blue. Hotels have summarily hoisted their prices and fees, for your convenience, to make sure those out of towners pay for the privilege of their stay in America's Finest City. Best of all, the entire city ratchets everything up to a fever pitch with tailgate parties, charity runs, after-parties, fireworks and just about everything that they could get without including the kitchen sink. Of course, the sports bars stand ready, taps poised and glasses waiting patiently for amber refreshment to enter and exit their transparent walls, big screens wiped off and tuned in to KGTV well before the 3:25PM kickoff.

With some people spending months to prepare -- pregame auditions were held in November, and the entire service industry brings their "A" game to January 26th -- San Diego rushes headlong towards the end zone of one heck of a good time and everybody's invited to cheer it on.