Posted in
104
,
business
,
cheap publicity
,
creativity
,
culture
,
entertainment
,
fiction
,
shameless pandering
,
writing
on April 6th, 2013 by Hannibal Tabu

This is one of a series of blogs promoting the Steamfunk! anthology by MV Media, which features my short story "The Sharp Knife of a Short Life." This blog was supposed to publish on March 7th alongside ones from other writers in the anthology. Woops. Here we go …
When creating my "steamfunk" story, one of my biggest goals was to not place it on Earth in some kind of alternative history space. "Hannibal, what's wrong with you? That's where steampunk is from!" I know. That's also one of the elements I don't like about it. Sure, stories like "Men in Black" or the one positing a Black nation in the continental space of north America might feel good, but for me they only remind me of our failures as a people (which is why I would write that sort of wish fulfillment stuff in the future, therefore hoping it could still happen). So, I had to get the heck off of Earth … which led me to Pless.
I created the "planet" Pless for a number of logistical reasons that'd help me in telling the story. I could perfectly set the technological level to whatever I wanted it to be, which was crucial in establishing this as a "steamfunk" style of story, with all the brass and pageantry and pneumatics and what have you. Normally, I go for more … esoteric and futuristic technologies (which savvy readers might note at the end of my work, the moment linking this story to my larger fictional universe), so this was a challenge but one I accepted in looking at the assignment.
Another reason is that Pless' ambiguous racial history allowed me to sidestep the aforementioned challenges that alternative history poses for my sometimes overcritical brain. The arguable "love interest" is essentially Latino. Two main characters are Black. The lieutenant governor (or whatever I made him, I barely remember some days) was white (based on some late 1800s politician I looked up). The town's madam is an ambiguous Asian mix. There's a whole new race that's nothing like anybody else. Add that to the flora and fauna differences and my little alien "steamfunk" world is almost a character in and of itself.
Finally, growing up at the foot of my great uncle while he religiously tuned in to Gunsmoke gave me a deep sense of possibility in those old western tropes, if I could just sci-fi 'em up a bit (apologies to Firefly fans). Pless became my untamed frontier, a striking contrast to the super-technological trappings of 'Dam Clara Perry, a much broader expanse for my lunacy than cobblestone streets lit by gaslamps, patrolled by constables and what gave you.
Where is Pless? Ah, that'd be revealing a big part of Clara Perry's overall story, which would continue if the proposed Dieselfunk anthology comes along or if I do a set of short stories past the one on my current docket (seeming more likely as more ideas come to me). Suffice it to say there are well-considered reasons for dropping our cryo-frozen NASA scientist there and I have every intention of finishing the larger story begun here. Maybe I just need a new country music song to get me inspired …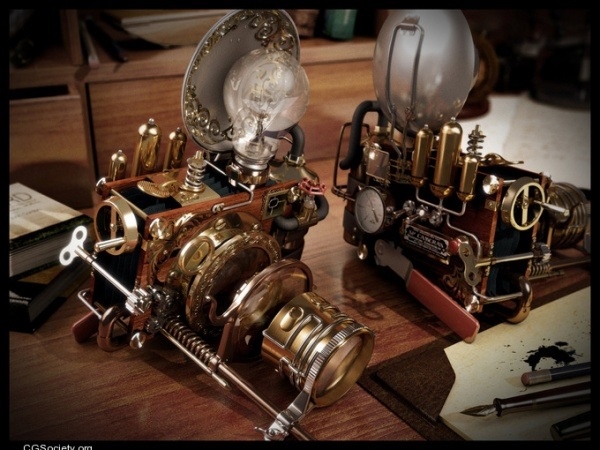 The camera shop was a suggestion from the real NASA scientist who consulted, as she said it'd be a place where strange smells and exotic chemicals and/or technology wouldn't be looked at too oddly and she could continue the real work, using the "futuristic" technology she brought with her. That worked out really well for what I needed to accomplish for the "apprentice" Jenny Taylor.
I also had to give this place its own depth and nuances, like a fully realized culture. Creating their shared religion, with elements familiar yet haunting differences, was important. They believe in a trinity, but it's a distant father god Avshalom who sparked life and then buggered off to explore the cosmos, a nurturing, forgiving mother god Iya'a and a daughter Muhsinah cast in the vein of Yeshua ben Josef, sent to redeem through sacrifice. The religion uses elements of traditional African belief (matrilineage, hunter/explorer men and gatherer/nurturer women) as well as tropes from Judaeo-Christianity and some other sources I stumbled upon. The framing device for the story (the song "If I Die Young" by The Band Perry as discussed previously) called for a casket to be sank into water "to the words of a love song," so that meant composing a kind of hymn that would work as both a devotional of spirit and a romantic overture. Yes, that means I had to sing it, but composing a soundtrack of Plessi spiritual music was a bit more ambitious than I planned. If I ever do a reading of the work, digitally or in person, maybe I could be cajoled into at least humming the tune, for reference. It kind of sounds like "How Do I Live?" by LeAnn Rimes (still very country western influenced, and I heard that a lot as a south bay karaoke host). Anyway, I spent the better part of two nights parsing it all out.
I gave the people of Pless some alterations in their biology. Tying together purple blood with the purple clothing of their funerary rites was a nod to my youngest daughter and two of my wife's friends, all of whom adore the color, so that's purely cosmetic. Other alterations had practical purposes — I'd been aiming to redesign humanity since I was maybe six, so tired of the tedium of waste product. If it was all converted into carbon dioxide, something the ecosystem could conceivably handle, well, that'd eliminate some technical concerns and toilet humor all in one swoop, making for a more mature society (I guessed).
Other stuff — 'Dam Scarlett's Diversion Emporium, "fluffener," or the twelve legged bjekk — was just me riffing, kind of like a pianist when the band is playing "Red Clay," tickling extra ivories here and there but staying pretty much within the boundaries of the tune. I created a small frontier-styled corner of one fairly parochial planet for a reason … that will likely be revealed in a book I hope to put out in late 2014.
The Vanity Pomp was my excuse for a big, splashy visual scene that combined action (you'll have to read to see what) and steampunk excess and pageantry. It seemed to work and made a good climactic crescendo for the story to achieve. I just kept going back and making the elements of it more ornate and ridiculous until I couldn't take it (at one point, everybody in the parade was flying), then dialed it back to what I felt would work.
I think it turned out okay. What do you think?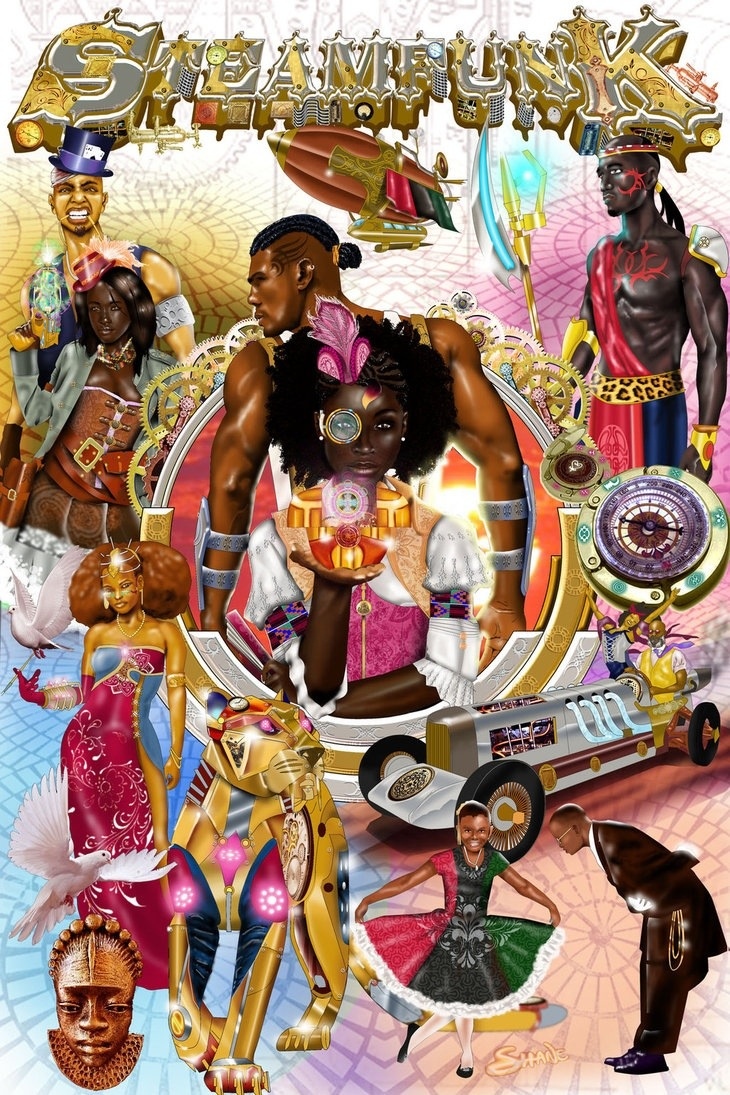 The Steamfunk! anthology is available now.
Playing (Music): "Story" by King

Tags:
anthology. short story
,
continuity
,
diverse
,
extraterrestrial
,
gunsmoke
,
mv media
,
pless
,
promotional
,
religion
,
songwriting
,
steamfunk
,
steampunk
,
world