Posted in
104
,
entertainment
,
fiction
,
shameless pandering
,
writing
on February 19th, 2014 by Hannibal Tabu

I am very, very pleased to report that on March 19, 2014, Stranger Comics will be releasing Waso: Will To Power, Episode 1, a fantasy novella set in the fictional world of Asunda written by myself and featuring a cover illustration by Hyoung Taek Nam.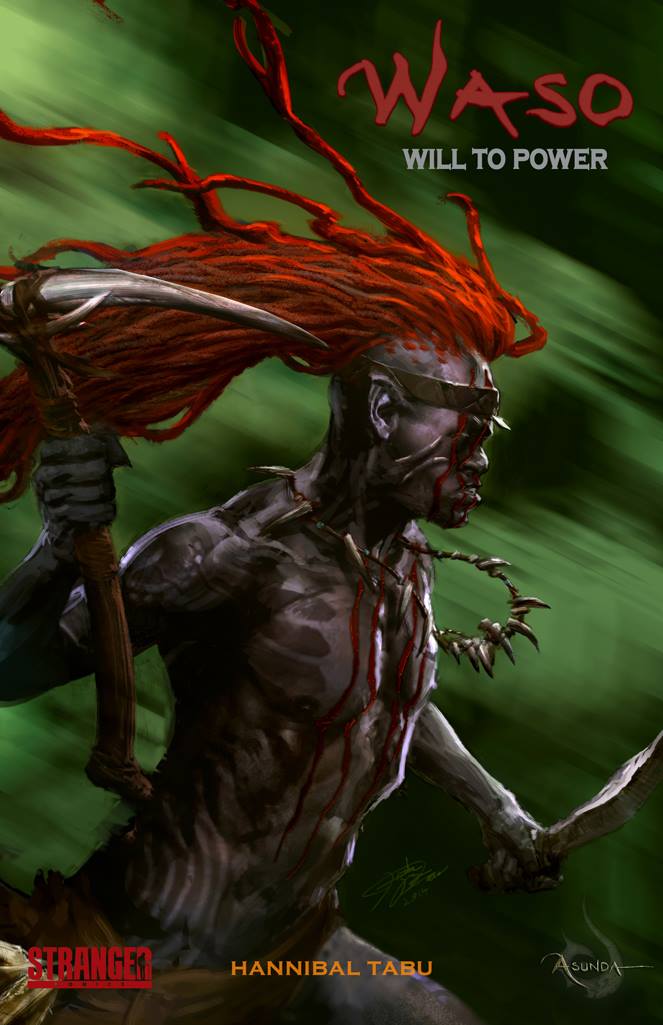 Following in the footsteps of the comic series Dusu: Path of the Ancient by Sebastian A. Jones, Christopher Garner and James Cory Webster, the impetuous son of the chief is forced to take the reins of controlling the tribe after the dramatic events in the Dusu series. The book follows his struggle to help rebuild the tribe in the face of enormous odds in a tale set against the lush junglescape of Asunda's untamed Ugoma region.
As a writer, it was a wonderful challenge workong inside the fictional framework of Asunda's rich culture, with its striking linguistic differences and exotic flora and fauna (some of which I got to help create). Working with my editor Josh Cozine and Asunda's creator Sebastian Jones has been a delight, a thorough education in world building and narrative experimentation.

Waso: Will To Power is a novella divided into six parts (most of which is already written) and will be released at the middle of each month for an affordable price of … wait, what? This can't be right. Let's read that again …
… nope, that's correct. The first of six installments will be FREE, and will be available through online resources like Amazon and Barnes & Noble. I hope you'll check it out and I hope you enjoy it! I'll have flyers to promote it next week at 6PM when I'm signing copies of Artifacts #35 at Hi De Ho Comics in Santa Monica.

Watching (Netflix): House of Cards, Season 2 Episode 3

Tags:
asunda
,
ebook
,
electronic release
,
Fantasy
,
fiction
,
novel
,
novella
,
stranger
,
ugoma
,
waso
,
will to power