Posted in
104
,
bad ideas
,
blame society
,
cars
,
children
,
driving
,
failure
on October 12th, 2013 by Hannibal Tabu

A little after noon, I was sitting in the westbound left turn lane on Pico at Alvarado in Los Angeles. I'd recently picked up my youngest daughter from her ballet school and was theoretically heading for a park. I'd just explained the concept of area codes to her and was talking on my headset to a business associate from Chicago.
As the light was turning red, a faded black Acura Legend tried to make the light, ignoring the fact that a gray Toyota Corolla had already begun its legal lefft turn to head east on Pico. The Acura collided into the Corolla at what seemed like quite a high velocity, and the Corolla slid, out of control, into the front left side of my car.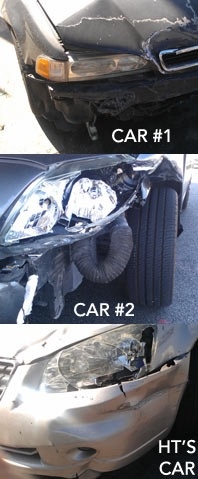 My baby girl was too shocked to know how to react, bursting into tears thirty seconds after the impact. Her baby seat held her securely in place, and my seat belt did as well, even though my phone had been hurled to the dusty floor.
The driver of the Acura (let's call him Beauregard) was a Mexican national. He didn't speak English, but the early-twenties Latino driver of the Corolla (let's call him Bob) was fluently bilingual. Beaurega admitted fault to everyone, and Bob was worried that his dad would be furious, calling his job and warning them that he couldn't drive nor get to work and worried about attending his south bay college classes.
My wife drove by to pick up the shaken baby and I stayed to take photos and exchange data. Apparently, I was the only one of us who had ever been in an accident before. Two eyewitnesses came to me, offering to share their perspectives, everyone agreeing that my stationary sedan was wholly blameless in this midday fiasco.
I have sustained no injuries. My youngest may have bumped her chin on her seatbelt, but she was fine. Everyone was insured, so it's all nuisance and paperwork now. Monday morning, I'll take my car to Collision Consultants off La Cienega and Venice, and we'll receive the fantastic service they're well known to provide.
Yes, this is yet another traffic accident I had while completely still. If I'm moving, I'm virtually invulnerable, like a Black Sam Guthrie. As I'd say online, "#lesigh."
This blog hopefully will answer any questions anyone has.
Playing (Music): "Can't Hold Us" by Macklemore and Ryan Lewis

Tags:
accident
,
car
,
frustration
,
traffic