IMPORTANT NOTE! YOU WILL BE ASKED TO DO SOMETHING AT THE END OF THIS BLOG! YOU CAN JUST HEAD ON DOWN TO THE NEXT BOLD SECTION FOR DETAILS! THANK YOU!
It could be considered an innocuous notice on page 316 of the latest Previews catalog …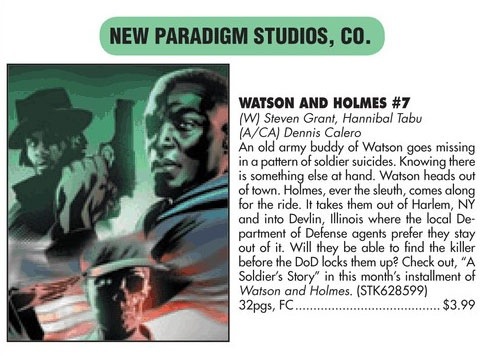 … or it could have been presented like this …
FROM THE CREATOR OF 2 GUNS AND THE BIGGEST JACKASS IN COMICS ON THE INTERNET! AN URBANIZED TAKE ON A LITERARY CLASSIC HITS RETAIL JANUARY 15, 2014!

Steven Grant (Punisher, Wolverine, 2 Guns)
Hannibal Tabu (The Buy Pile at Comic Book Resources, 2012 Top Cow Talent Hunt winner)
Featuring Art by Dennis Calero (Supergirl & The Legion of Super Heroes, X-Factor)

When one of Watson's old army buddies gets in trouble, the crime solving duo leave the streets of New York behind for the tedium of the midwest. Holmes relies heavily on his network of informants and operatives … none of whom can help in so far from home.
Making this comic was so much fun for a number of reasons …
Working closely with Steven Grant has been a real education, in the best possible way. He's a consummate professional who really knows the craft in ways that I was very, very happy learn from.
Brandon, Zack and everybody at New Paradigm run a very tight ship, and that was also a real pleasure.
Dennis Calero leapt into the creation of our fictional Illinois town, heavily based on Rockford, the city where I was born. they say you can't go home again, but let's just say this is close.
What can I say about Karl Bollers, who was like a big brother to me? He really help me get inside the heads and voices of the characters. That was enormous advantage.
This issue also follows hot on the heels of the surely under-ordered sixth issue, written by my good friend Brandon Easton. I am certain that when the story gets out, lots of people will be talking about it. All of the people who funded these issues on Kickstarter are surely going to get their money's worth.
Another great thing for me was being able to touch on the plight of service people who are not properly served by the infrastructure when they return home. My wife and I both have close friends who served overseas, and to know the kinds of challenges they face when trying to reenter great with regular life, it's really heartbreaking. Regardless of what you think about the policies behind military action (believe me I'm not in favor of it), the people who served, the actual boots on the ground, are really doing the best they can with a challenging situation. Hopefully, our story can bring a little more attention to that, even if only in a "don't hate the player, hate the game" kind of way.
Here's what I want you to do: please use the Comic Shop Locator to find the comic book store nearest you. Then please call that shop, and ask them to reserve a copy of Watson and Holmes #7 for you. Every time a retailer gets a person asking for a book, that encourages them to buy more to have on the stands in case people come in looking for. You can use either order code, NOV131148 or STK628599.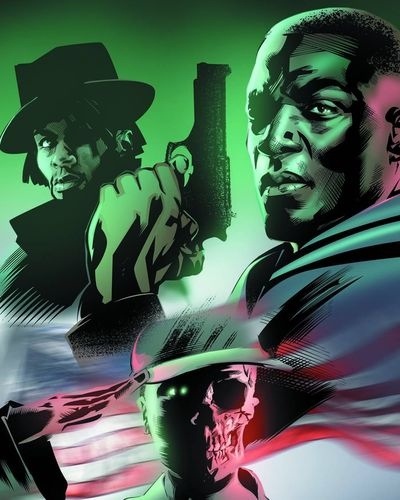 Pre-orders help determine how retailers buy comics, as they are considered the actual customer by publishers. Black writers are wildly underrepresented in comics (only 20 Black writers have ever written more than one issue for the companies making up 70 percent of the market), so each thing we do can reflect positively or negatively on every one who follows them. Plus, as a degree holder in English, I guarantee this is a solid, self contained story.
If you love me, if you like me, if you even just barely tolerate me, I would really appreciate if you could do this for my professional debut as a comic book writer.
In any case, I "really, really thank you for dancing 'til the end, you found a way to freak out, you're not afraid to freak out …"
Playing (Music): "Dance Apocalyptic" by Janelle Monae

Tags:
arthur conan doyle
,
black writer
,
debut
,
holmes
,
new paradigm
,
watson