Posted in
awesomeness
,
creativity
,
culture
,
daughter
,
happiness
,
inspiration
,
napowrimo
,
poetry
,
wife
on April 30th, 2012 by Hannibal Tabu
Ha! You thought I'd forget! That because I was stir fried from doing that free MP3 column I'd screw up and stumble on the last day, huh? DON'T LET THE MICKEY FICKEY SMOOTH TASTE FOOL YOU, DAWG!
Here we go.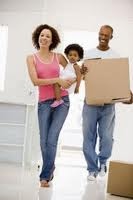 Like sunrise reflected
in toddler eyes
this is our chance.

Today we can do better,
we can find our way,
encourage greatness,
redeem dreams like lottery tickets.

Start all over.

Transition ain't easy,
loading cardboard clad baggage
of mortgaged yesterdays
into moving trucks of motivation.
Making the trip
takes gasoline,
elbow grease
patience through stop signs
and stopped types
logjamming your route,
but we gon' do
what they say
can't be done.

Open front door to reset
hardwood floors for footsteps
echoing in tomorrow's memories,
that one spot by kitchen
always creaks
watch your step.

Start all over.

This is it.
Holding hands,
striding heads high into sunlight,
don't need no shades
don't need to squint
see possibilities just fine
making mark in grandchildren legacies
stepping up
hitting free throws
getting out of bed
especially when it's so warm
when she's so warm
knowing world's so cold.

Doesn't matter.
Starting all over,
unpacking lessons we need
conveniently forgetting
boxes of transgressions
that rot foundations
this is a new place,
a new day
a new chance
to make it all right.

Best of all?
We'll get another one tomororow.
Let's go!

"Movin' On Up"
By Hannibal Tabu

That said, this blog may go dark a while again (maybe not, now that I have both FTP and Wordpress going well on my iPad) but I (always) have a lot going on at Komplicated (celebrating its first birthday tomorrow) and I have a few projects in the pipeline (that one from before with the preview art is pretty much dead in that format now, long stupid story) that I hope to share soon. In any case, thanks for the support, and no, you're unlikely to see me here for National Novel Writing Month. That joint is exhausting.
Playing (Music): "The Way" by Fastball

Tags:
choose joy
,
house
,
Moving
,
together